7 Tips to Successfully Recruit on Linkedin and Find Top Talent

As a savvy recruiter, you're well aware that Linkedin is a valuable pool of potential candidates. With tens of millions of active users worldwide, this social platform provides a vast talent pool at your fingertips. However, successful Linkedin recruitment goes beyond creating a profile and posting job openings. To optimize your approach and discover profiles that perfectly match your needs, we present you with 7 essential tips.
Create a Company Page on Linkedin
When aiming for successful Linkedin recruitment, the critical first step is to create and optimize your company page. This page is essential and serves as a showcase for potential candidates. Think of it as the first impression you make on professionals who visit your page. It's crucial that this initial impression is positive and engaging.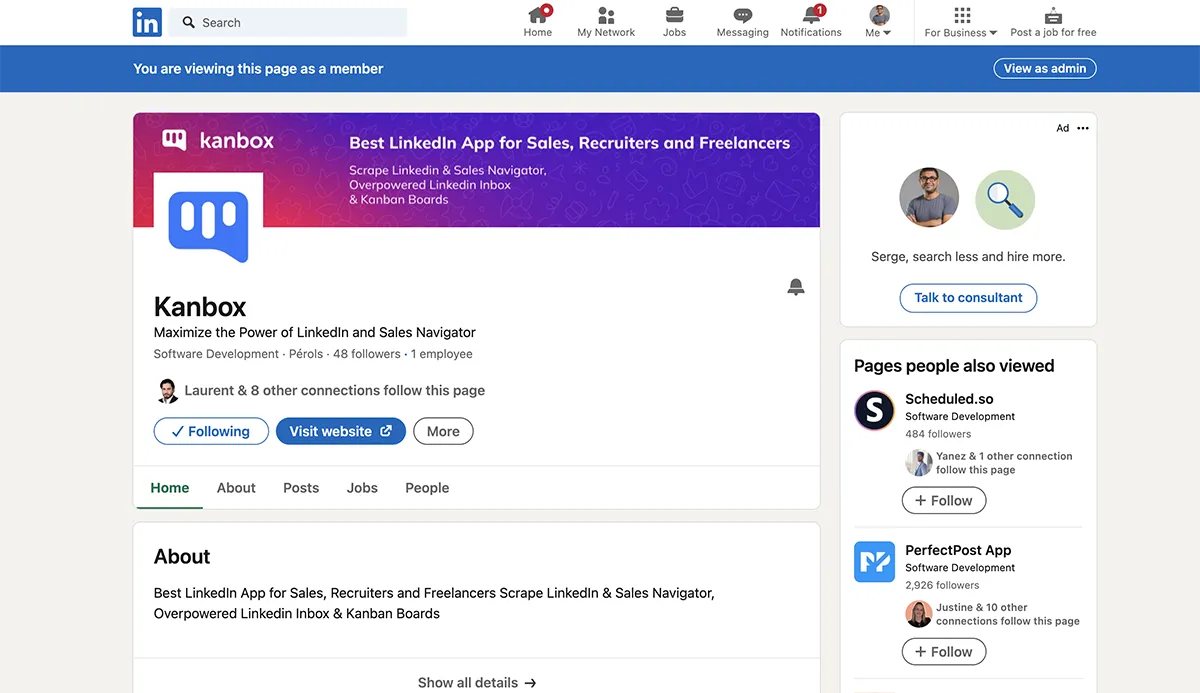 Start by ensuring your profile image and cover photo are professional. Use a clear, high-quality image that represents your company well. This is often the first thing users see, so it's essential to present a welcoming face.
Next, use a compelling cover image. Rather than using a generic image, choose one that reflects your company's essence. For example, if you're a technology-focused company, an image of your team working on an exciting project can be an excellent choice.

As for your company description, this is where you have the opportunity to tell your story. Provide a concise yet inspiring description of your company, highlighting your culture, values, and vision. Showcase concrete examples of significant projects or initiatives that embody these values. By showing instead of just telling, you create a powerful narrative that can attract like-minded candidates.
Developing Your Employer Brand
Developing your employer brand is a key aspect of attracting top talent. This means showing potential candidates why your company is the place they want to work. To do this, create and share authentic content that highlights what makes your company special.
Employee testimonials are an excellent way to do this. Candidates want to hear direct stories from those who have already chosen to work for your company. You can publish videos or articles where your employees share their experiences, accomplishments, and passion for their work. This allows candidates to see themselves in the role and feel what it's like to work for your company.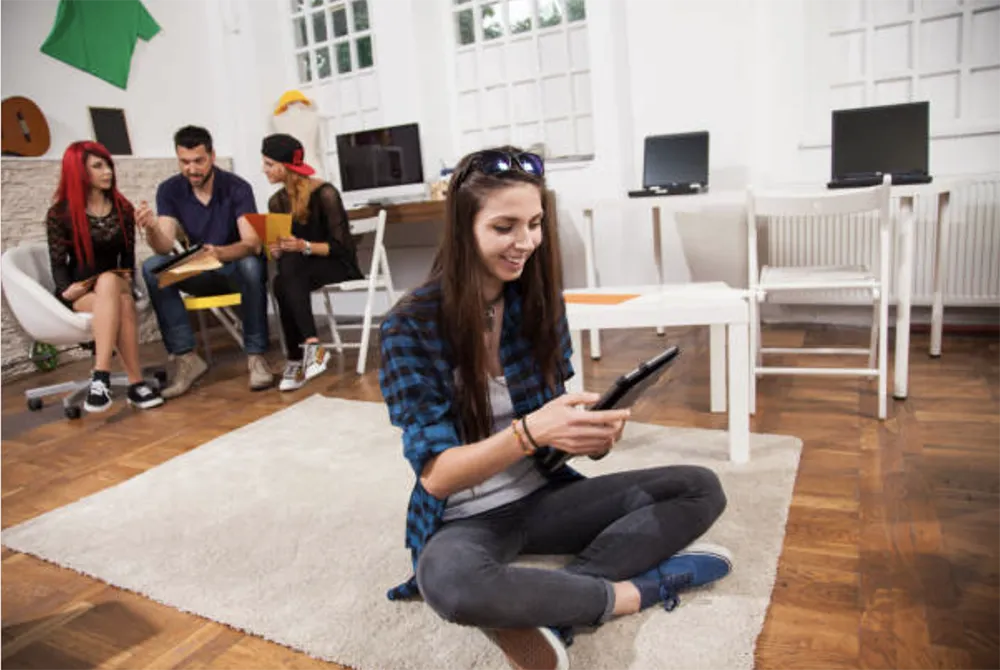 In addition to testimonials, showcase the work environment. If you have a beautiful office, cool relaxation areas, or social initiatives, share them with images or videos. For example, if your company hosts regular team events, showcase these moments of camaraderie to give candidates a glimpse of your company's culture. When candidates see these aspects of your company, they are more likely to be attracted to the prospect of working with you.
Leveraging Linkedin Groups for Recruitment Success
Linkedin, as the leading professional network, offers a wealth of opportunities for recruiters to find top talent. One effective strategy is to join relevant Linkedin groups. These groups provide a platform where professionals with similar interests and expertise come together to network, share insights, and explore job opportunities. Here's how you can make the most of this valuable resource for your recruitment efforts:
Identify and Join Relevant Groups
First and foremost, you'll want to identify and join Linkedin groups that align with the industry or niche you're recruiting for. These groups act as virtual communities where like-minded professionals gather to discuss trends, industry news, and potential job openings. When searching for groups, use specific keywords related to your recruitment needs. For instance, if you're looking for software developers, search for groups related to software development or specific programming languages.
Engage Actively
Once you're a member of relevant groups, don't just lurk in the shadows. Actively participate in group discussions and engage with members. By sharing your insights and knowledge, you can establish yourself as a knowledgeable and trusted recruiter within the group. The more you participate, the more visibility and credibility you'll gain.
Observe Group Rules
It's important to respect the rules and guidelines of each Linkedin group. Some groups may allow job postings in their feeds, while others may not. Always adhere to the specific posting policies of the groups you join. Posting jobs where it's allowed can be an effective way to connect with potential candidates.
Share Job Openings
When it's permitted by the group, share your job openings in the feeds. Craft engaging job posts that provide essential information about the role, your company, and the application process. Encourage interested candidates to reach out or apply directly.
Build Relationships
In addition to posting jobs, focus on building relationships with potential candidates. If someone expresses interest in a job post or comments on a discussion you've contributed to, take the opportunity to connect with them personally. Developing these relationships can lead to a more successful and efficient recruitment process.
Leverage Group Insights
Linkedin groups offer valuable insights into the latest trends, challenges, and opportunities in your target industry. Stay updated with these discussions to refine your recruitment strategy. Understanding the pain points and aspirations of professionals in your field will help you tailor your job offerings more effectively.
Optimizing Job Postings
When writing job postings on Linkedin, clarity is crucial. Potential candidates should quickly understand what you are looking for and if the position matches their skills and aspirations. Ensure your job listing is well-structured and contains all essential information.
Start with an engaging introduction briefly describing the company and the position. This provides an immediate idea of what candidates can expect. Then, detail the responsibilities of the role. Be specific and highlight the key tasks the candidate will perform. For example, if you're looking for a marketing manager, specify activities related to managing advertising campaigns, data analysis, and creating marketing strategies.
Don't forget to mention the required qualifications. Specify the necessary skills, certifications, and professional experience. For example, if you're seeking a web developer, state the specific programming languages the candidate must master and the required years of experience. The clearer the requirements, the more suitable candidates will apply.
Finally, highlight the benefits your company offers. Candidates want to know what they will gain by joining your organization. This could include competitive salary, training opportunities, benefits, or work flexibility. Providing this information helps attract candidates who not only match in skills but also in values and aspirations.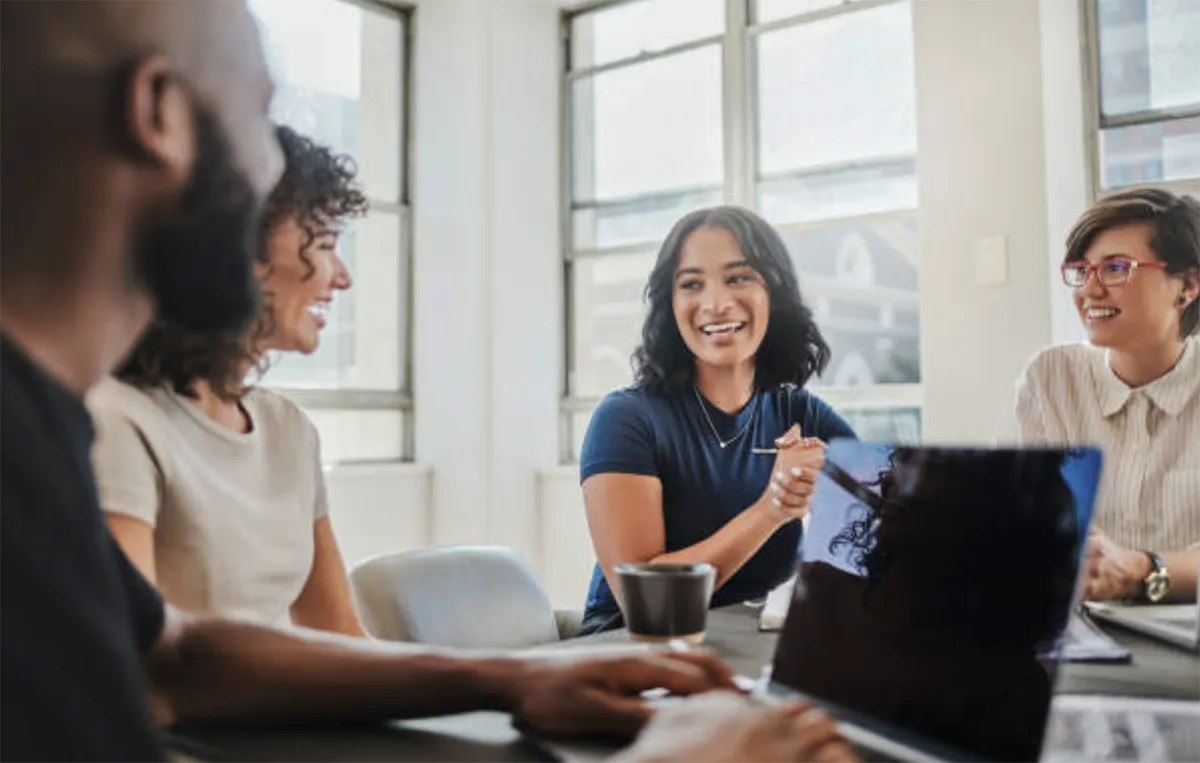 Active Engagement with Candidates
When candidates show interest in a position, maintaining active engagement is essential. Open and transparent communication is key to creating a positive experience. Respond promptly to their questions and concerns. Ensure they receive clear information about the recruitment process. If you take too long to respond, candidates may lose interest and pursue other opportunities.
Timely interview scheduling is also crucial. Candidates want to feel that you are serious about their application. A prolonged delay between the initial response and interview scheduling can discourage candidates. Show that you value their time and interest by promptly scheduling interviews.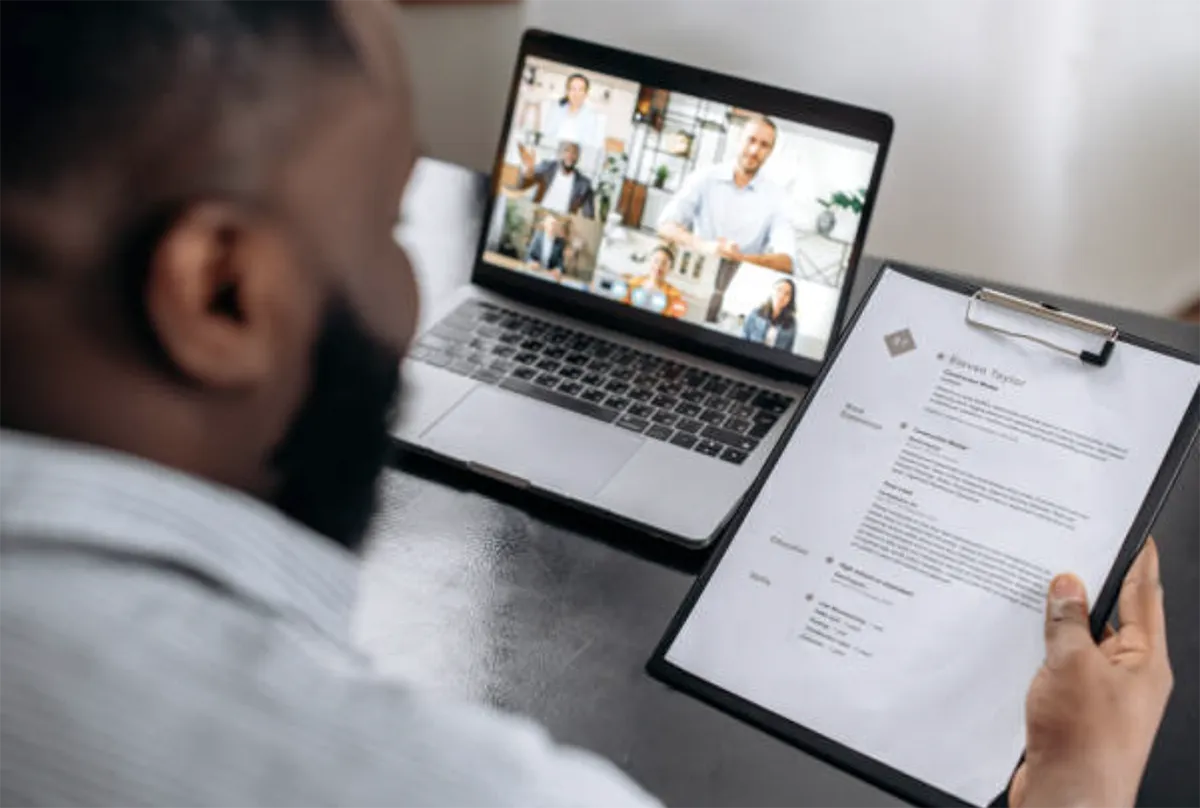 Throughout the process, maintain attentive follow-up. Provide information on the schedule, upcoming steps, and expectations. Customize your messages to show that you've thoroughly reviewed their profile. Show genuine interest in what they can bring to your company. For example, if a candidate has worked on a remarkable project, acknowledge it in your communication by saying something like, "We noticed your outstanding contribution to [project], and we're very excited to discuss how you could bring similar value to our team."
Use Recruitment Management Tools
Using an Applicant Tracking System (ATS) is a strategic step to streamline the recruitment process. ATS systems are designed to help recruitment teams efficiently sort, store, and manage applications. They offer features such as interview scheduling, internal feedback sharing, and creating a complete history of interactions with candidates. This simplifies recruitment process organization.
For example, an ATS allows you to score each candidate's key skills. You can assign specific assessments for each skill, making it easier to compare candidates, which is particularly useful when managing numerous applications. By using an ATS, you can also track the status of each candidate from the initial application to the final decision. This ensures that no one is forgotten or overlooked along the way.
One of the critical benefits of an ATS is its role in team communication. Recruitment team members can share feedback, evaluations, and notes on each candidate. This promotes more informed decision-making and ensures candidates are consistently evaluated. Additionally, internal discussions about candidates are stored for future reference, which can be valuable during the decision-making process.
Recommended ATS solutions include Flatchr, Beetween, WeRecruit, and SmartRecruiters, which are suitable for larger companies.
However, there are more streamlined solutions like Kanbox, which simplify Linkedin recruitment among other things.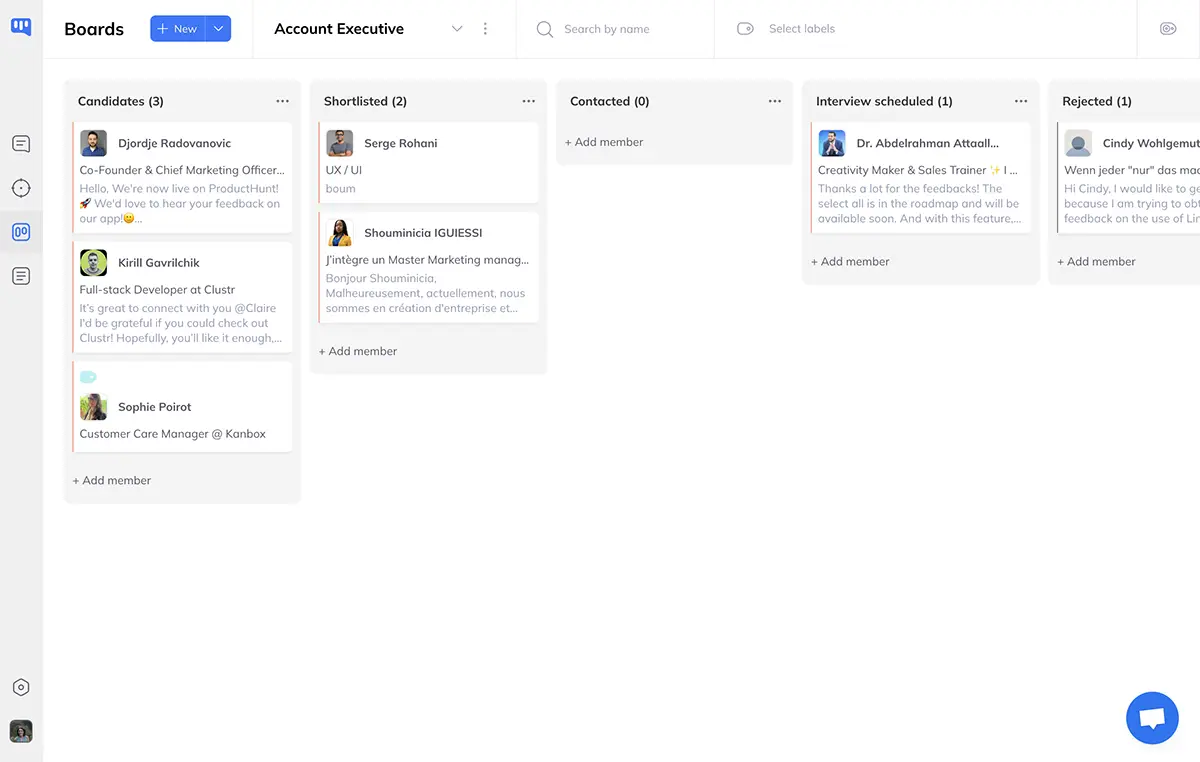 These solutions allow you to manage your recruitment processes relatively easily without the need for expensive ATS. Kanbox offers three key features:
Import candidates from Linkedin into its contact manager and communicate with them as you usually do on Linkedin but in a much more user-friendly interface.

Add candidates to pipelines, which are boards organized into columns designed specifically for recruitment. This allows you to visualize each stage of your processes: "new candidates," "to interview," "interview completed," and more.

Use personalized message templates with variables to eliminate repetitive tasks like copying and pasting. For example, if you receive 30 applications, of which 10 do not meet your criteria, you can create a unique rejection message that looks like this: "Hello [Firstname]," followed by your generic text explaining the reasons for rejection. In one action, candidates in the "Rejected Candidates" column will receive a personalized rejection email. You can create as many templates as needed using variables for each step and column in your recruitment board. Additionally, you can include appointment-setting links, such as your video conference links for interviews.
In short, this allows you to save valuable time and effectively organize your recruitment processes visually. Create a dedicated board (Pipeline) for each open position. You can find a detailed article on using Kanbox for Linkedin recruitment.
Measurement and Adaptation
Performance measurement is a fundamental step in improving your recruitment strategy. Linkedin analytics tools allow you to track various metrics to assess the effectiveness of your recruitment efforts. One key metric to monitor is the time it takes to fill a position. If this duration is unusually long, it may indicate obstacles in the recruitment process that need to be identified and resolved.
The success rate of your listings is also an important indicator. If your listings attract few qualified candidates, it may be a sign that you need to revise the content to make it more appealing. Carefully examine the types of candidates you are attracting to ensure they align with your needs.
Don't forget to measure the number of engaged candidates. If you've managed to attract good candidates but they drop out along the way, it may indicate an issue in the recruitment process or in candidate communication. Ensure that you maintain a high engagement rate throughout the process.
A continuous measurement and adaptation approach is essential to ensure that your recruitment process remains effective and relevant.
Using Linkedin Premium
If you're considering upgrading to a paid version of Linkedin, it's important to compare the available options to find the one that best suits your specific recruitment needs. Two common choices are Linkedin Premium Recruiter Lite and Sales Navigator Core.
Linkedin Premium Recruiter Lite is an ideal option for recruiters. This version offers advanced features for candidate search. For example, you can use Premium Recruiter Lite to search for specific candidates based on their skills, location, experience, and more. This feature allows you to precisely target profiles that match your requirements.
Sales Navigator Core is primarily designed for sales professionals, but it proves to be an invaluable asset for recruitment. Its extensive search function allows you to find potential candidates beyond your current network. Unlike Premium Recruiter, which is limited to searching among members actively seeking employment, Sales Navigator explores all Linkedin members. In other words, if your goal is to recruit the best talent, whether currently employed or not, investing in a Sales Navigator license is highly recommended.
To help you make an informed decision regarding different Linkedin Premium subscriptions, we have published a detailed comparison, allowing you to choose the option that best aligns with your recruitment goals.
Conclusion
Linkedin offers an invaluable talent pool, but as you've seen, successful recruitment requires more than merely posting job ads. These 7 tips, from creating your company page to utilizing advanced tools, will help you discover top talent and successfully strengthen your team.