Linkedin Scraper, Email Finder, Smart Inbox, and CRM Pipelines. All-in-one.
Kanbox is a Linkedin Scraper and Email Finder crafted to extract leads from Sales Navigator, find professional emails, and refine your lists with Advanced Filters. Leverage the power of a robust Linkedin Inbox and full-screen chat for seamless communication on Linkedin. CRM Pipelines to supercharge your lead generation.
Start My 7-Day Free Trial
No credit card or signup required.
Just install the Kanbox Chrome extension and log in to Linkedin.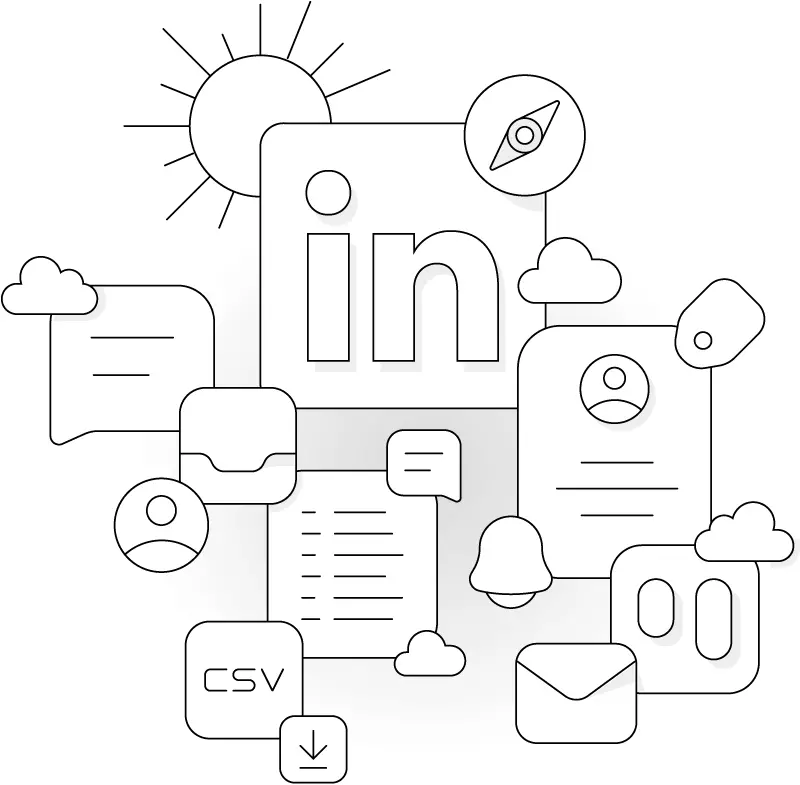 Elevating Linkedin scraper to unparalleled accuracy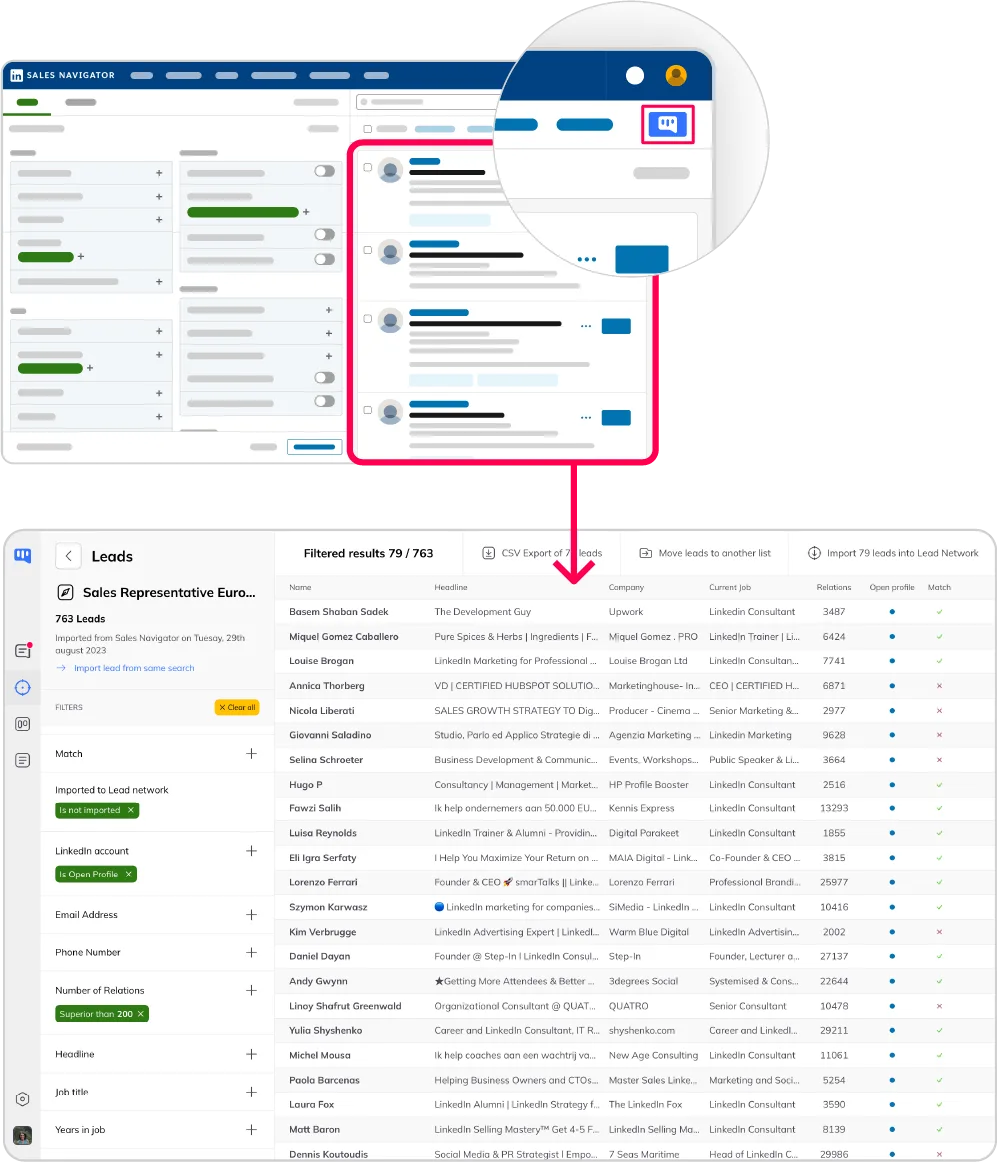 A Linkedin Scraper to export leads without duplicates!
Utilize our cutting-edge Linkedin Scraper to export leads without any duplicates! With Kanbox, you can easily retrieve leads from LinkedIn and Sales Navigator, ensuring that your list is clean and free from any repeated entries. Bid farewell to the inconvenience of managing duplicate contacts, and welcome a more efficient and productive lead generation processes.
Try

 for Free
Kanbox Advanced Filters to Refine your Lists
Refine your list of leads with Kanbox's Advanced Filters, which allow you to fine-tune and re-evaluate your leads. Additionally, you can create custom lists and export them in CSV format.
Try

 for Free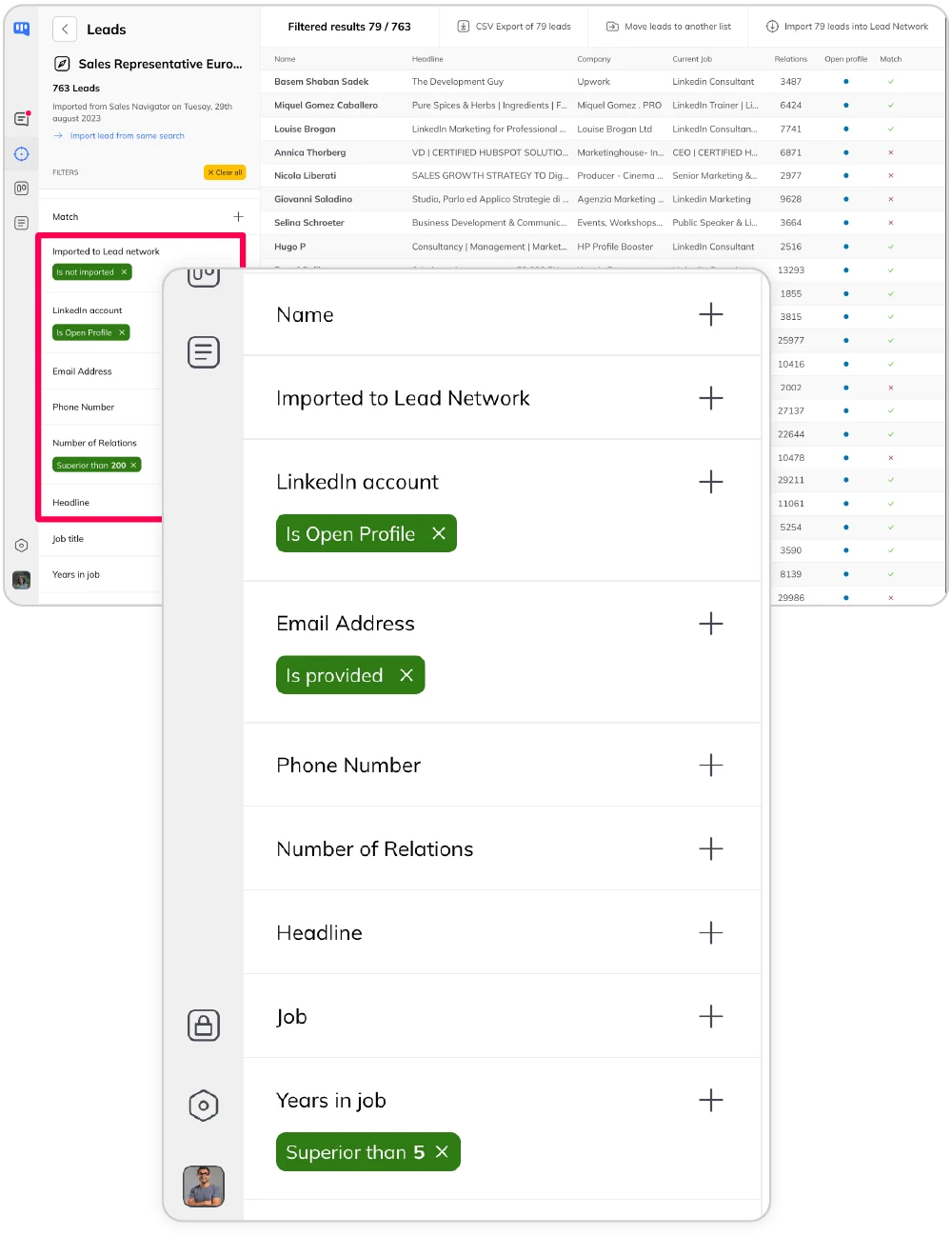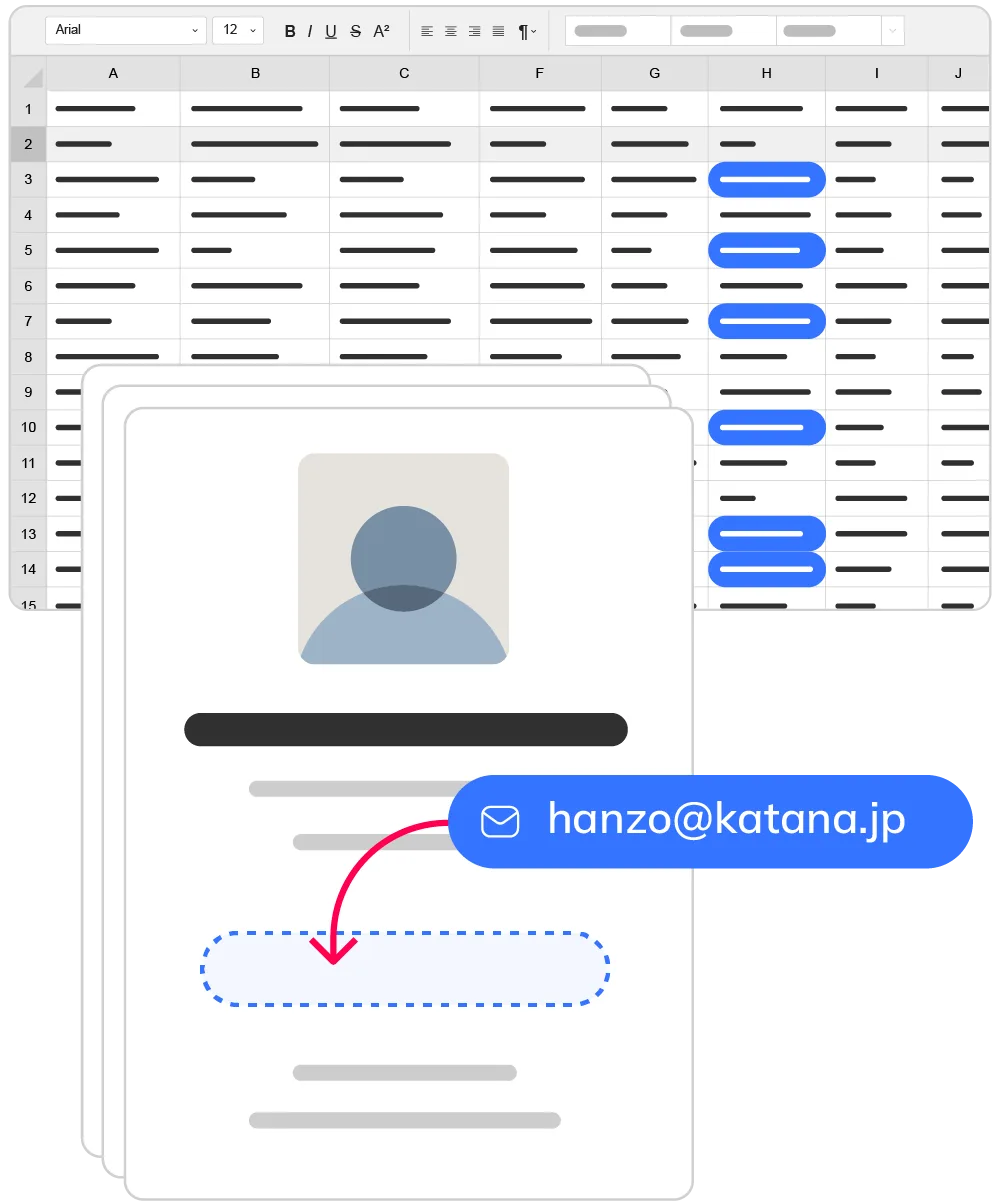 Linkedin Email Finder: 98% Email Addresses Validity Guarantee
Enrich your lead lists by allowing Kanbox to find missing email addresses. Your prospecting efforts will receive a boost!
Try

 for Free
Get Cleaned List of Leads
While importing leads, Kanbox automatically cleans names, job titles and company names.
Try

 for Free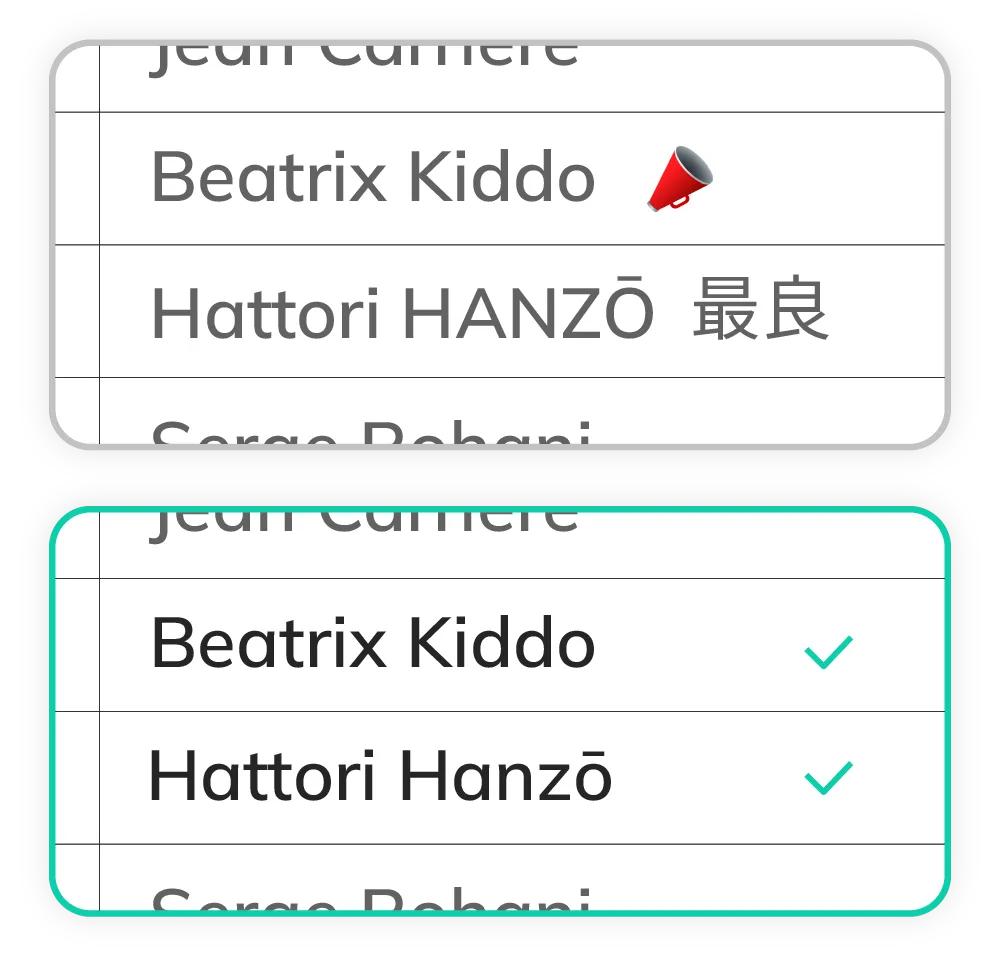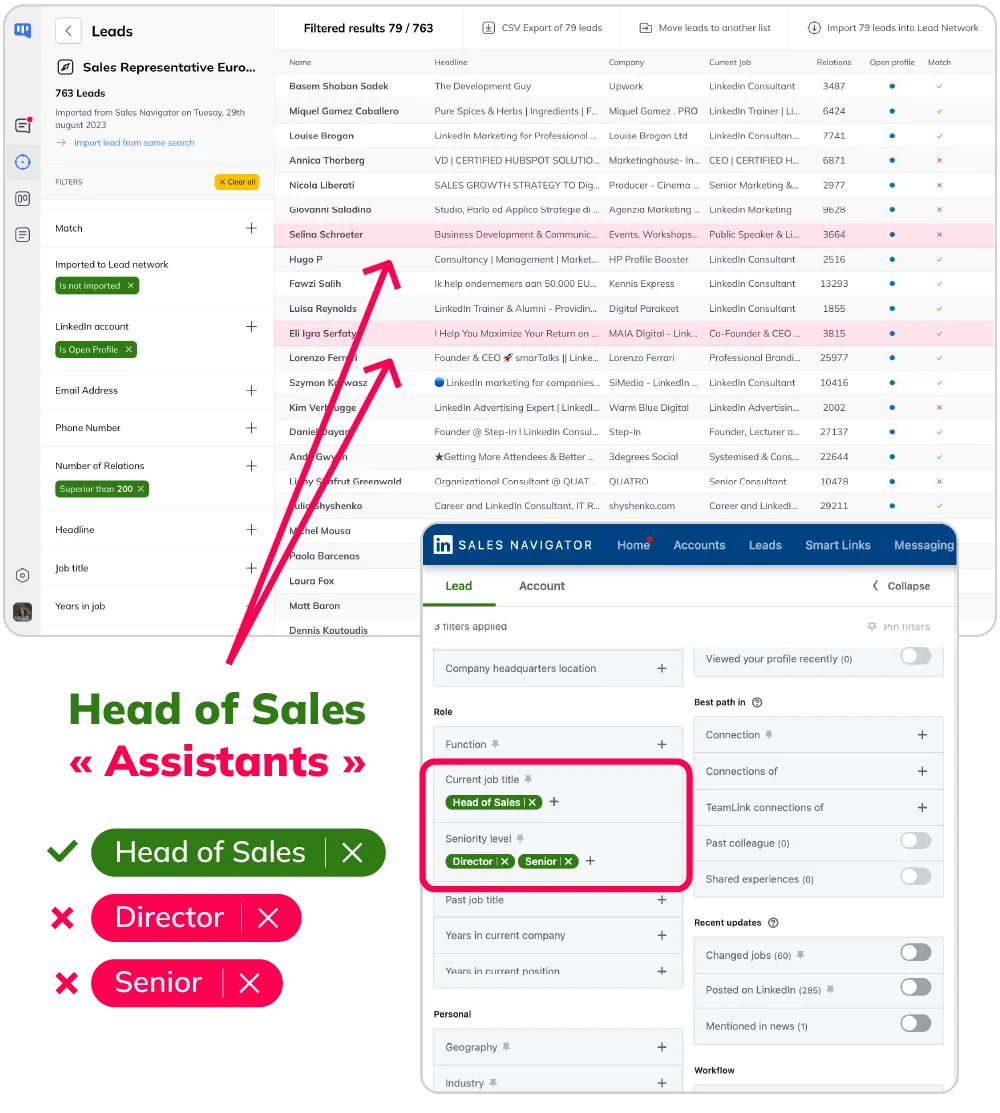 Irrelevant Leads Detection
Once imported from Sales Navigator, Kanbox detects leads who don't match with your filters on Sales Navigator. Remove them in one click or add them in a new custom list.
Try

 for Free
Taking Linkedin Messaging Inbox to New Heights
A Powerful Linkedin Messaging Inbox Crafted for Lead Generation
Access your Linkedin inbox on Kanbox in an intuitive interface. Organize and sort your communication, separating personal from professional ones. Add labels to categorize them, use bulk actions to send private messages or invitations to multiple leads at once. Save a huge amount of time.
Try

 for Free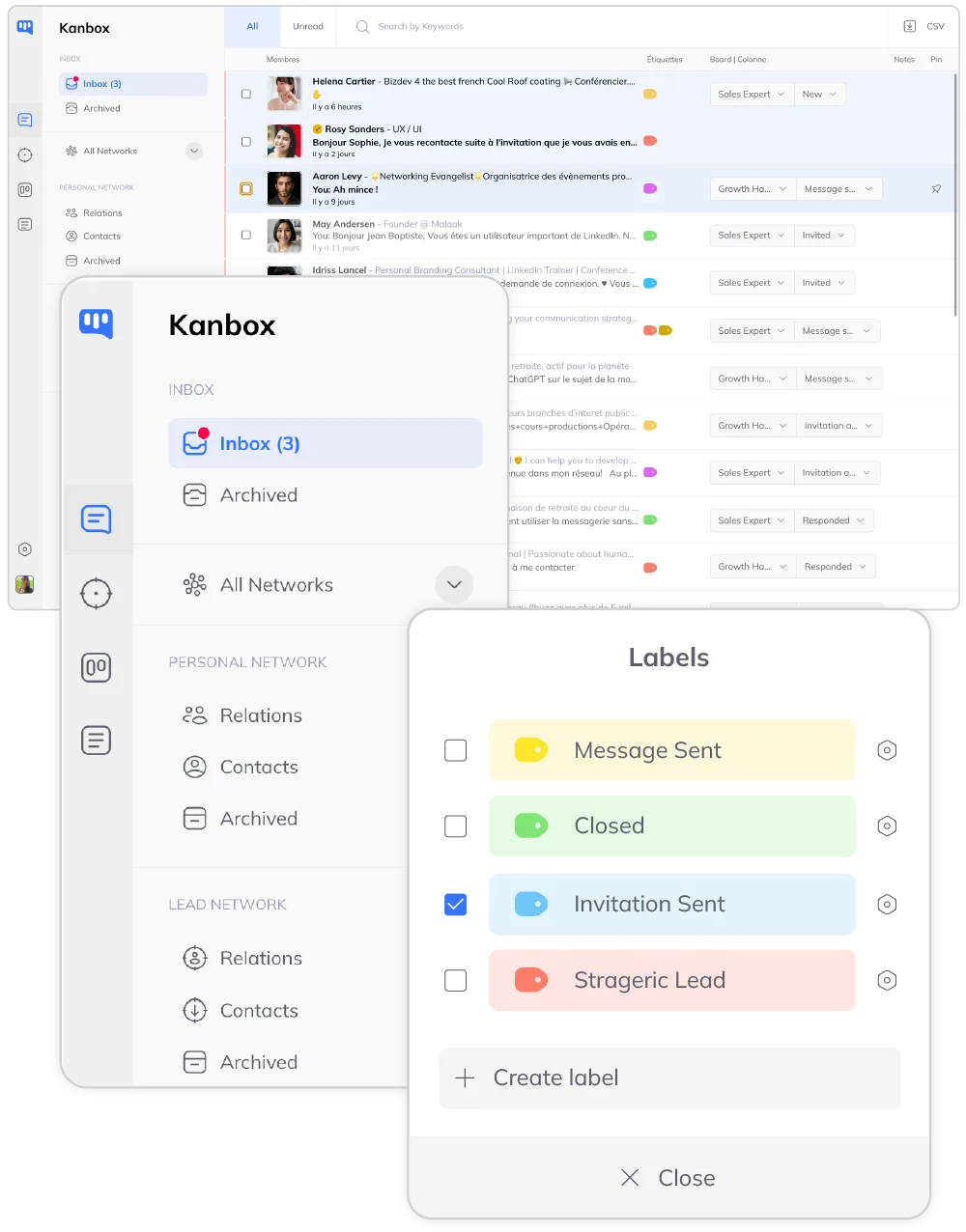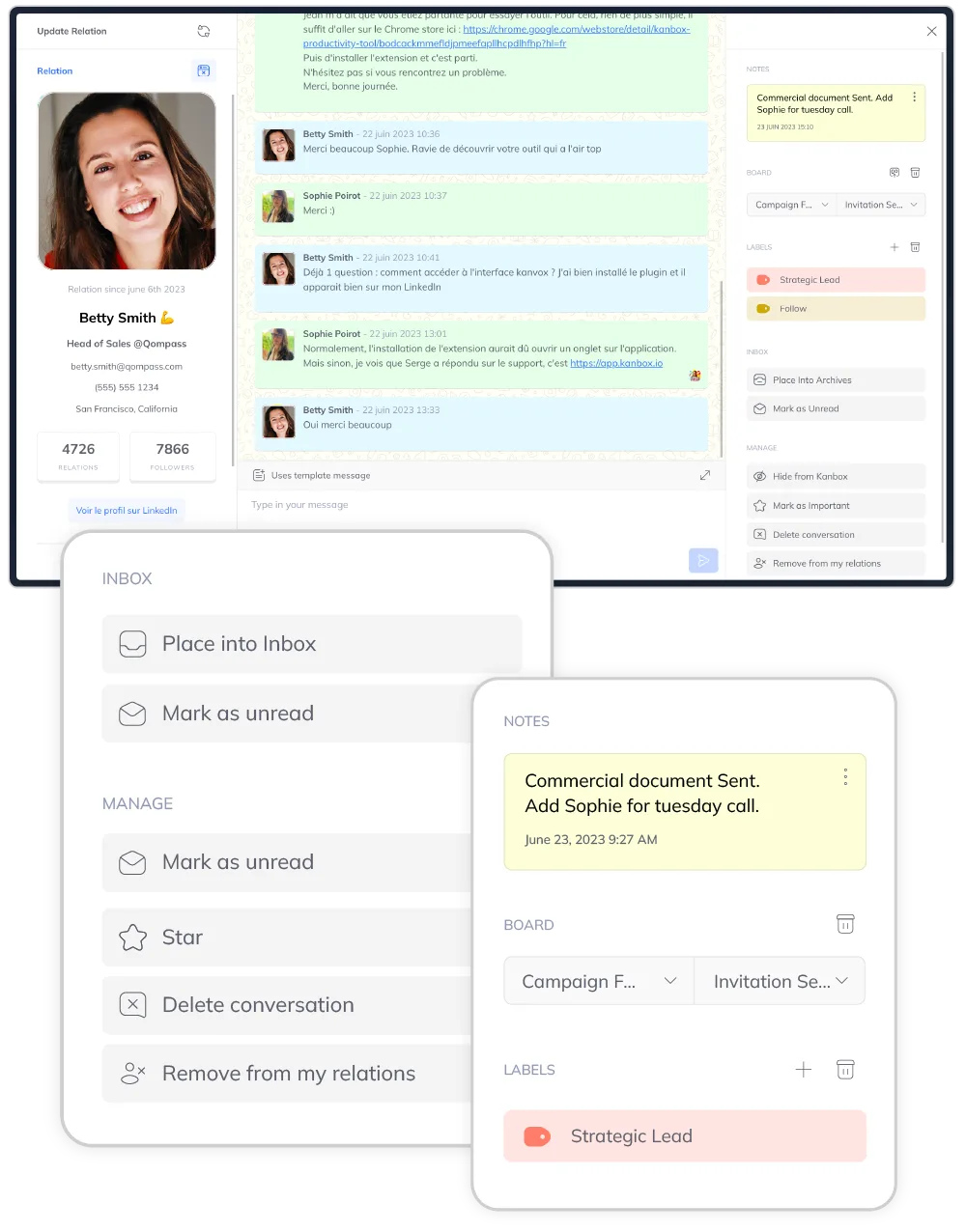 A Full-Screen Chat Experience for Maximum Comfort
Engage in communication with your leads in a full-screen chat interface. Keep key information about your contacts within view. Create notes on each of them to avoid forgetting anything.
Try

 for Free
Enhance Lead Gen through Kanbox CRM Pipelines for Linkedin
CRM Pipelines Designed for Sales and Recruitment
Easily visualize all stages of your lead generation and recruitement processes at a glance: Has the lead accepted your invitation? Did he respond to a follow-up? Have you sent him your sales materials? Get organized with Kanbox Pipelines and manage a greater amount of leads without losing track.
Try

 for Free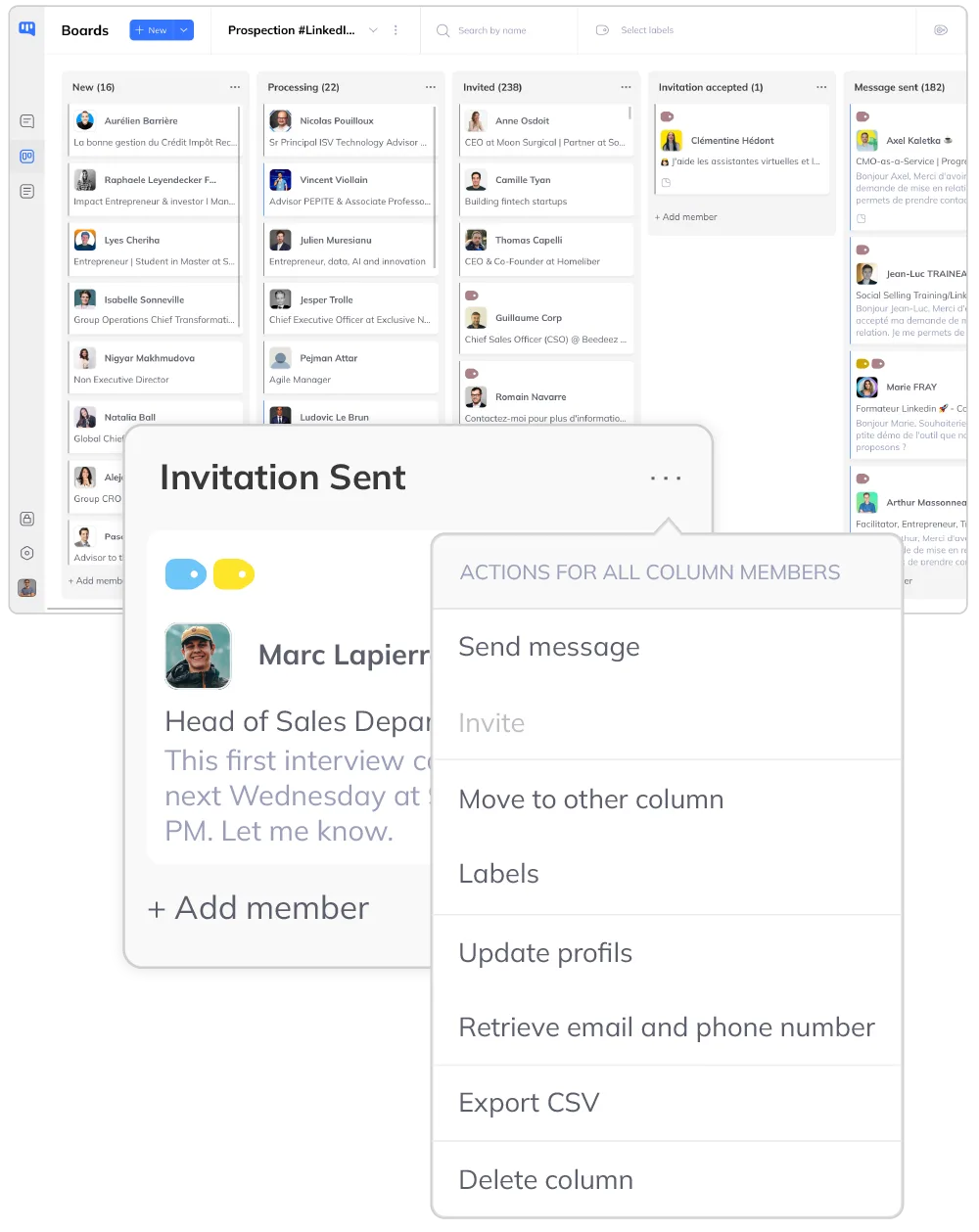 Privacy Aligned, GDPR Compliant
A Secure Platform
Kanbox simulates natural user behavior as you carry out actions on the platform. This allows you to safely maximize your use of Linkedin while staying within the platform's established limits.
GDPR Compliant
Kanbox's commitment to GDPR compliance ensures that your personal data is handled with the highest level of privacy and security standards.
For respectful relationship
Kanbox aims to create a tool that fosters respect, quality, and authenticity in the interactions between sales professionals and leads, with a strong emphasis on minimizing the use of automation practices.
Featured blog articles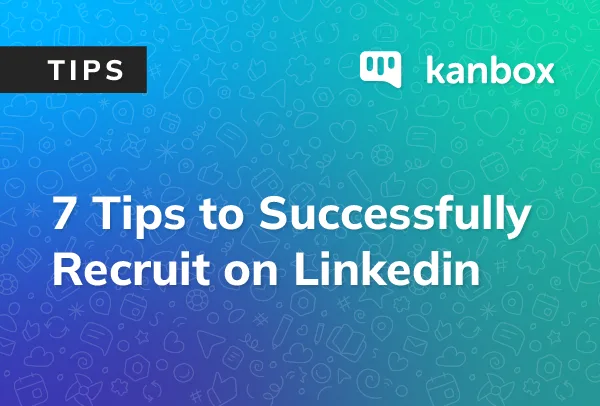 As a savvy recruiter, you're well aware that Linkedin is a valuable pool of potential candidates. With tens of millions of active users worldwide, this social platform provides a vast talent pool at your fingertips. However, successful Linkedin recruitment goes beyond creating a profile and posting job openings. To optimize your approach and discover profiles that perfectly match your needs, we present you with 7 essential tips.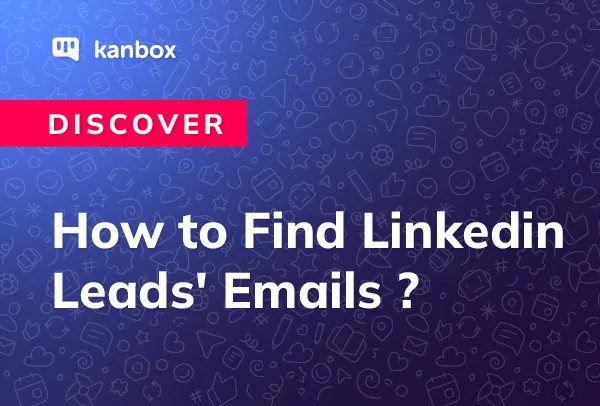 Linkedin boasts nearly 1 billion users and currently stands as the most well-documented and richest source of lead data. Linkedin users have made it a habit to keep their information up-to-date on the social network, making it the most current database available.
Kanbox, a comprehensive and user-friendly platform that unlocks the full potential of Linkedin and Sales Navigator.
Try

 for Free